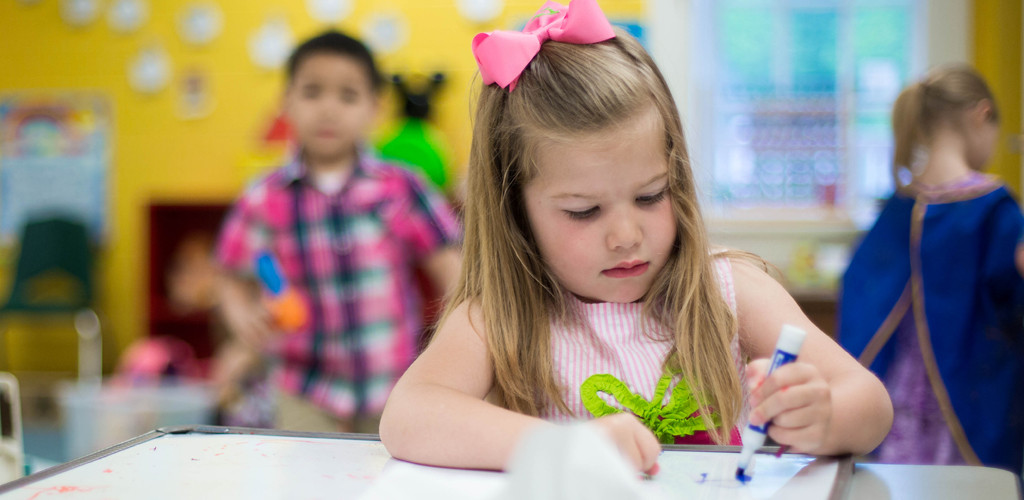 Covenant Developmental Preschool has three classes available – Preschool 1, Preschool 2, and Pre-K. The program runs from September to May. Each class features a lead and assistant teacher. Program offerings are as follows:
PRESCHOOL 1
2 Years of Age by September 30
2-Day Program
Monday/Wednesday or Tuesday/Thursday, 9:00am-12:00pm
The Preschool 1 program provides a gentle transition from home and into the classroom setting. Toddlers begin to explore the world around them through discovery and active play. Socialization skills and language development are central parts of this program. Art, music, storytelling, puppets and rhythm instruments make this a fun and enriching time. A healthy snack is provided.
Children in this group are not expected to be potty trained.
PRESCHOOL 2
3 Years of Age by September 30
3 or 4-Day Option: Tuesday-Thursday/Friday, 8:30am-12:00pm
In our Preschool 2 program, students gain a sense of self-confidence as they learn to become more independent. A greater level of structured activities is introduced, like circle time, which promotes sharing and learning in areas of study like the calendar and weather. Concepts of color, number, shape, size and name recognition are also introduced through age-appropriate activities that combine fun and learning. A healthy snack is provided.
PRE-K
4 or 5 Years of Age by September 30
4 or 5-Day Option: Monday-Thursday/Friday, 8:30am-12:00pm
The prekindergarten (PK) program focuses on critical and creative thinking skills and learning by discovery through a variety of multi-sensory experiences. The development of language and socialization skills is also a key part of this program. Experiences in alphabet, calendar, graphing and writing are emphasized as we prepare children for Kindergarten in a nurturing and safe environment. A healthy snack is provided.
EXTENDED DAY
Now offering extended day! This program is available for our Preschool 2 and Pre-K classes only and runs Monday-Thursday from 12:00 to 3:00pm. The afternoon includes lunch, quiet time, activities and outside playtime. Students are required to bring their own healthy lunch.